Regular price
Sale price
$11.99 USD
Unit price
per
Sale
Sold out
RARE BOSWELLIA NEGLECTA
THE MOST SUSTAINABLE FRANKINCENSE IN THE WORLD: Most frankincense is derived from manually tapping Boswellia trees for resin – a process that wounds the trees and must be carefully managed, and not exploited. However, there is little regulation in this industry, where you need it the most. This is where WE ARE DIFFERENT. BOSWELLIA NEGLECTA resin NATURALLY FLOWS from the trees without tapping or injury, and so this is rightly considered the most sustainable frankincense on the market today.
DISTILLER-DIRECT THERAPEUTIC GRADE FRANKINCENSE ESSENTIAL OIL: While most oils pass through many hands and middlemen, with questionable sources and ethics, our oil is direct from our sister company, Harvest Essentials distillery: fully traceable, field to bottle.
100% FRANKINCENSE BOSWELLIA NEGLECTA ESSENTIAL OIL: 100% pure and unadulterated, steam distilled for a full extraction of all therapeutic compounds | cruelty-free, and not tested on animals.
FRANKINCENSE ESSENTIAL OIL BENEFITS: Potent therapeutic compounds, with every batch GCMS verified – a secret ingredient to our award winning products.
CO-IMPACT | ETHICALLY SOURCED: This work creates sustainable income for an area in Kenya that is drought-stricken and suffers extreme unemployment. This work is truly co-impact creating employment with fair trade wages, to ensure our ethics and values start to finish.
CUSTOMER SATISFACTION: In every step, from the field to the bottle in your hands, we value our customers, clients, and people. If you're not satisfied with our products, or it is damaged, please contact us directly.
Need we say more?

TRANSPARENT. UNADULTERATED. DISTILLER DIRECT. TRACEABLE: FIELD TO BOTTLE.

GCMS validated. 100% pure and therapeutic essential oil.

Why we're different?

This is quite simply the most transparent and sustainable frankincense oil you can find. Without the complicated middlemen, distributors, and every link in the supply chain, this oil is the most sustainable frankincense on the planet - NATURALLY FLOWING from the Boswellia trees without tapping or injury, and rich in alpha-pinene and terpinen-4-ol, with a truly captivating aromatic profile, you won't be disappointed with this!

Our resin is entirely wild-harvested where the trees naturally yield their resin. Our work is a true co-impact initiative, where this resin is harvested creating hundreds of sustainable jobs at a local level in Kenya (where the resin is sourced), where work opportunities are otherwise scarce. It has been life-changing to say the least, while being able to work on the ground level ourselves and ensure purity and potency every step of the way.

The resin is carefully steam-distilled to ensure maximal extraction of all therapeutic compounds, and the end result is undeniable. This is why we use this particular ingredient, Boswellia neglecta essential oil, in our award winning products.

As is vital in this industry, we practice full transparency and GCMS validate our oils, provided by third-party labs.
Share
Ingredients

100% pure Boswellia neglecta (Frankincense) essential oil
How to use

Apply as desired, dilute in your choice of carrier oils, add as a potent and therapeutic ingredient to your own skin care products, shampoos, or simply aromatherapy, etc. The opportunities are numerous when using this pure and unadulterated oil.
Shipping

2-5 business days, unless using Amazon Prime
Return policy

We hope that you never have the need, but if you do, our service is friendly and hassle-free.
View full details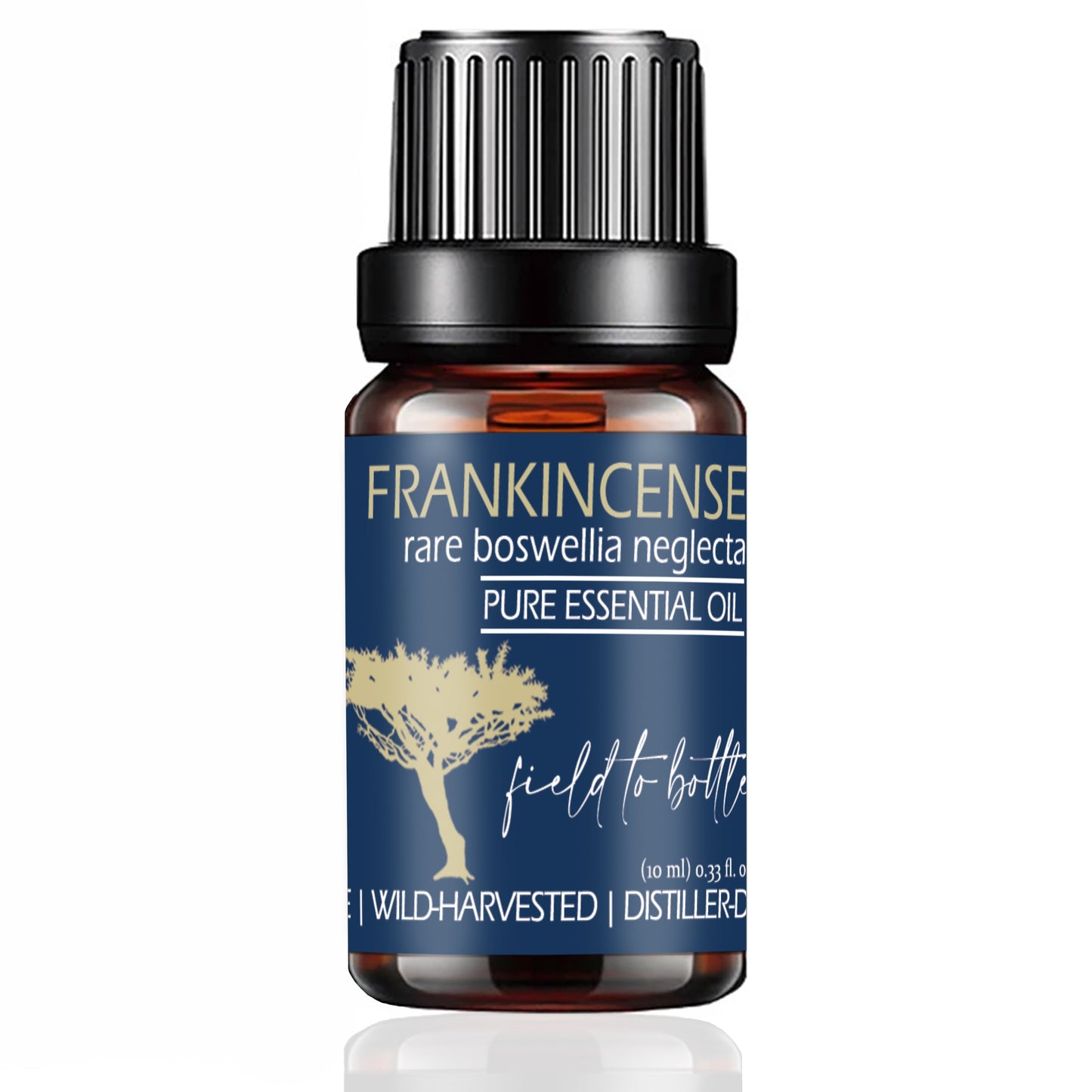 Natural skin care backed by science.
Functional skin care products that actually work. After years of scientific research, we've harnessed some of the most potent botanicals and wild harvested essential oils to create an unprecedented, and unashamedly transparent, line of skin care catering to the AUTOIMMUNE community, relieving dry skin for those with eczema, psoriasis, dermatitis, etc.
Don't take our word. Read some of the hundreds of reviews and satisfied customers.